Internets! This past August I promised you that if Faerie Blood cracked 300 sales, I would dye my hair. And now, since that milestone was reached, today I have made good on my promise!
This is the second time I've ever had my hair colored, ever, and getting it professionally done was a big change from the one time we did it back in Kentucky with a home coloring kit. That was a weird strawberry blonde color that ultimately didn't look quite natural on me, but it looked like it should have been natural on somebody. I figure if I'm going to put weird colors on my head, screw it, go with colors you just aren't going to find in nature. 😀
Blue and green were my colors of choice, as those are my two favorite colors, and the stylist agreed that they'd work well with my coloring. I got the work done by Jade at Scream Salon in downtown Seattle–the same woman who does Dara's vivid fire-engine red. Jade was very amused by the contrast between Dara having a "warm" color and me rocking the "cool" tones, though, you can make a real strong argument for the shades of blue and green we selected being very warm.
I chose to do a few different shades, with highlight-type blocks hiding underneath my actual hair color. This seemed easier on my hair, and also avoids the problem of my roots growing out and therefore losing the color. Plus, having bits of brilliant color lurking in my otherwise blonde hair seemed to fit me well personality-wise. So now, depending on which angle you look at me from, you'll get different bits of color!
Jade used bleach on the bits of my hair that she colored, and used the second lowest amount necessary just because my hair's pretty pale to begin with–and I'm starting to go gray in front anyway. Which meant that when the bleaching was done, parts of my hair were lighter than it's been since I was a little kid! And it also means that the bits of my hair that've gone gray in front turned into some neat highlights against the added color. Jade said as well that this is the brightest she's seen the colors. My hair apparently took to this really well.
This was huge fun, and it'll be neat to see how the color changes and fades. I may decide to keep doing this, I dunno yet. Paul says that if I do I should totally rock this brilliant dark blue that's lurking on the right side of my head.
So here's some of the after shots! This one shows the colors being kind of subtle: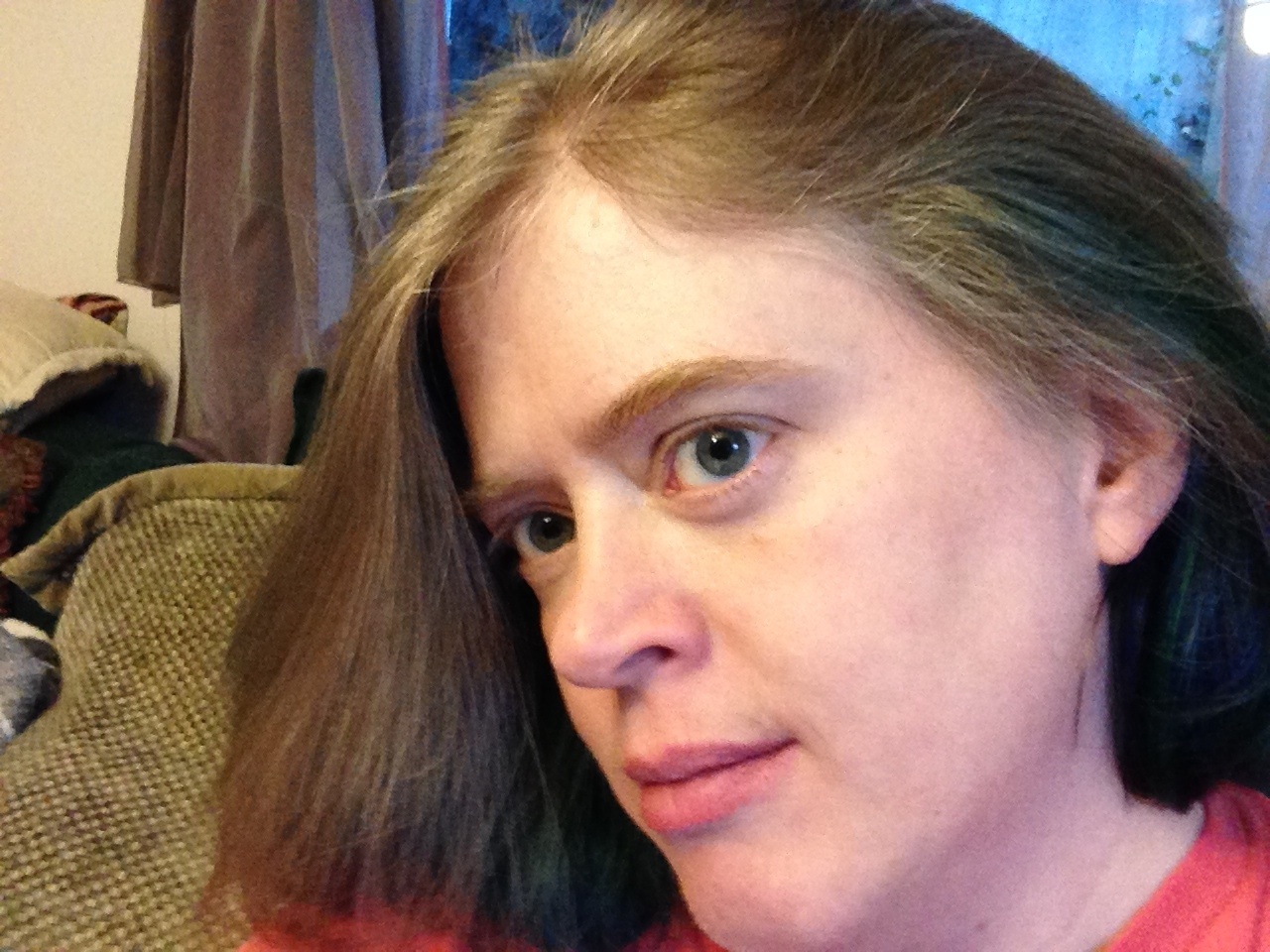 You'd think, looking at that, that I had hardly any color at all. But you'd be WRONG.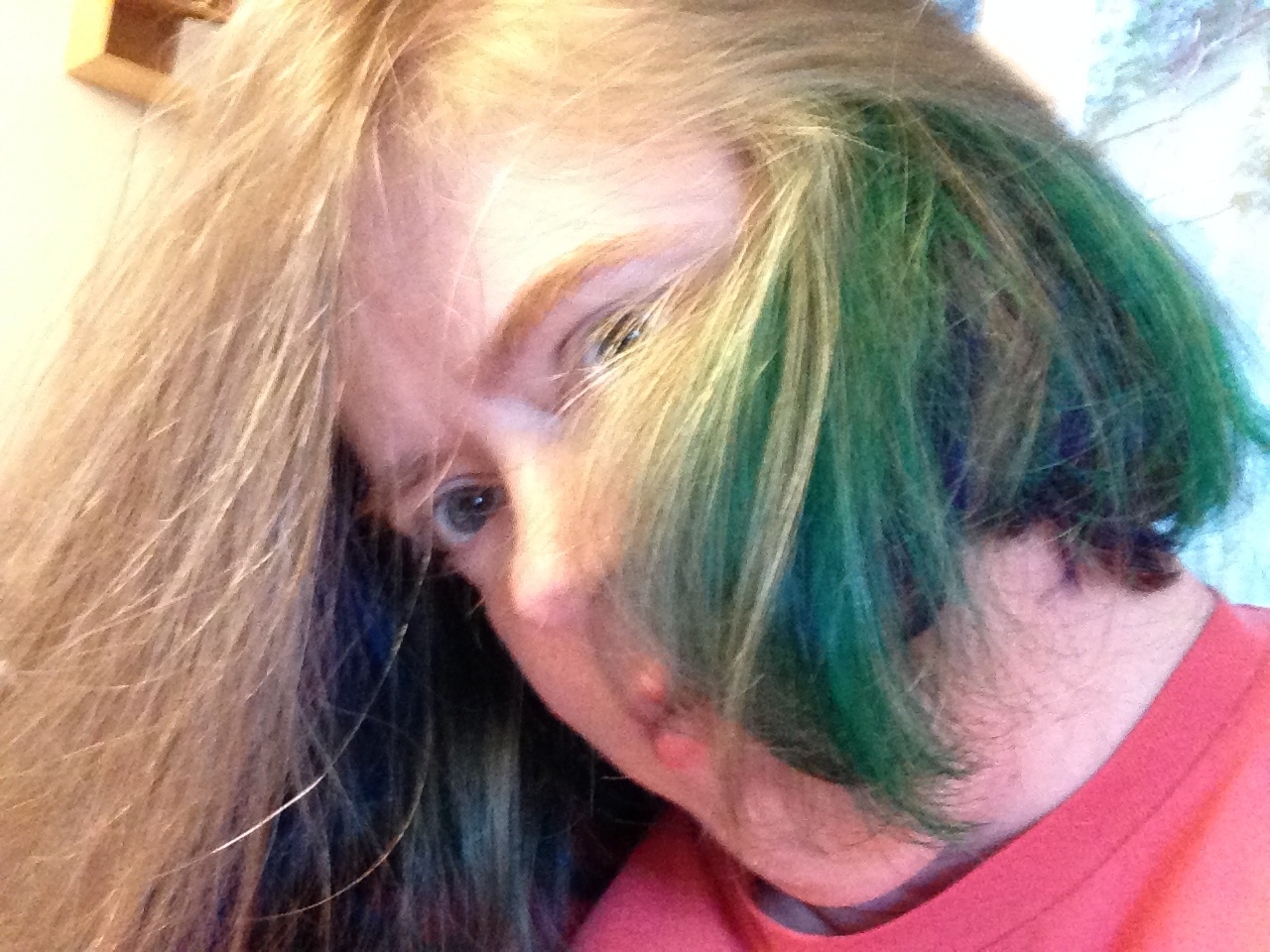 And this one's my favorite. You can see bits of the blue AND the green: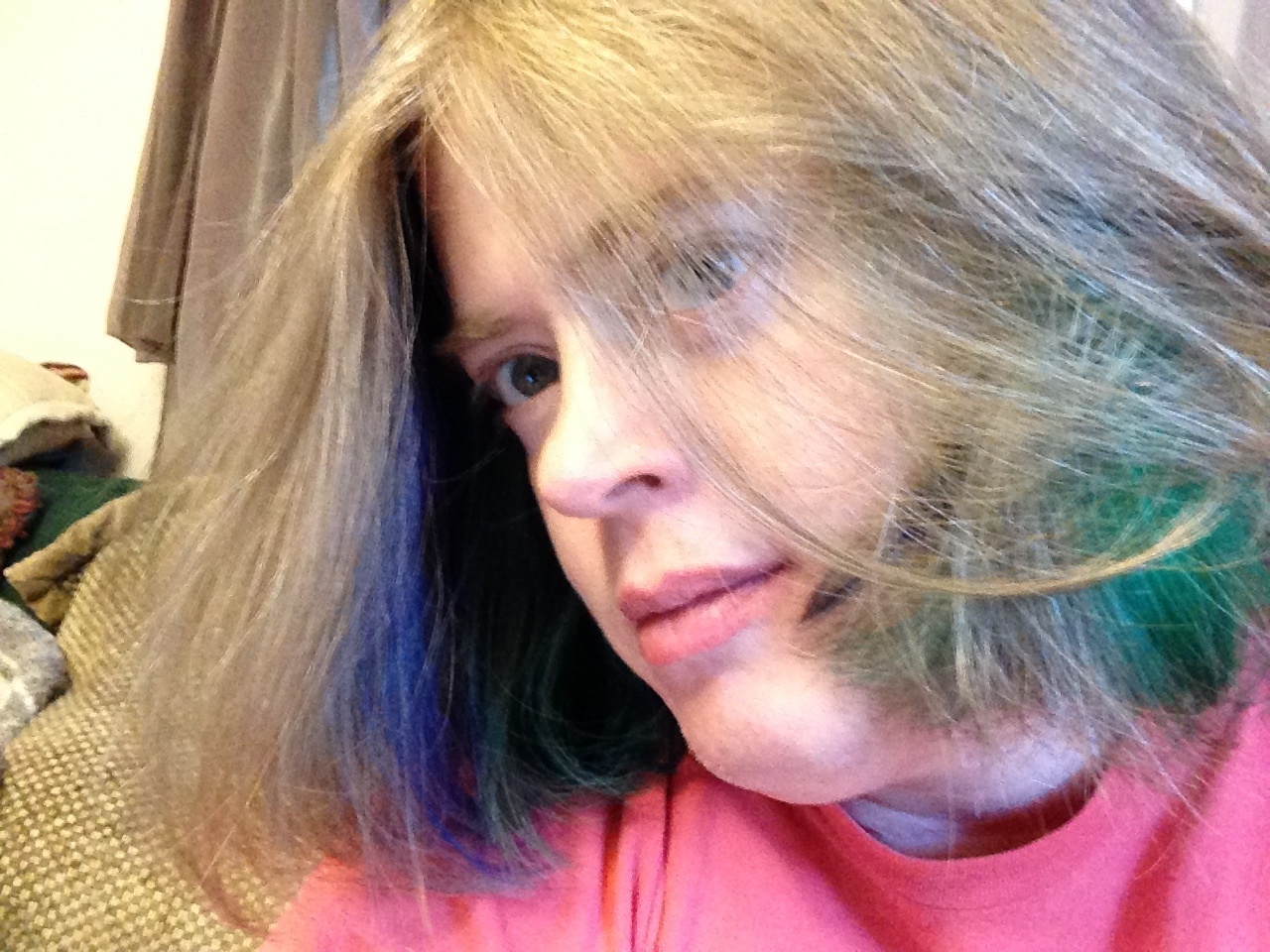 The full set is right over here!
EDITING TO ADD 1/3/2019: I had to move the pics off of Flickr, so now they're on annathepiper.org. The links in this post have been changed accordingly.